Onsite Mobile Shredding Service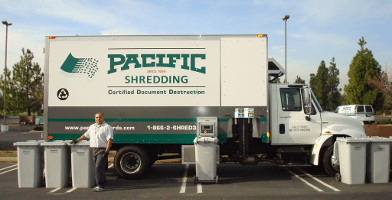 Shredding private and confidential files is imperative to your business. But feeding documents through an office shredder while removing staples, paper clips and rubber bands along the way, accounts for loss of productivity and time. Pacific Records Management's mobile shredding service offers the convenience of having your paper records shredded on-site at your business. Not sure what to shred? Click here for a helpful list.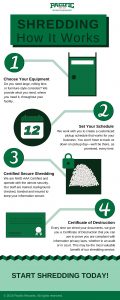 Mobile shredding is efficient, secure and does not require any time or labor investment on your part. Pacific Records Management's mobile shredding trucks will travel to your location on a scheduled or as needed basis so that you can witness the shredding of your confidential documents without leaving your office.We simply dropped off locked containers at your office in advance. Once they're filled, our professionals will take your containers directly from your office to our mobile shredding truck where the containers are weighed and the contents are shredded. Since our trucks use industrial strength shredders, your documents are shredded in a matter of minutes.
Upon completion of your shredding project, you will be issued a Certificate of Destruction documenting your due diligence and compliance. Depending on your business needs, Pacific Records Management will establish a reoccurring weekly, monthly or custom onsite shredding schedule. We can also assist with one time purge projects.
Pacific Records Management's mobile shredding services provide your business with a formal document destruction solution that maintains the confidentiality and security of your information.
If you are interested in a mobile shredding quote or more information, please contact us by phone or fill in the form on the page. If you're looking for Mobile Shredding in Fresno, click here.