Records Retrieval & Delivery Services
Your business records when you need them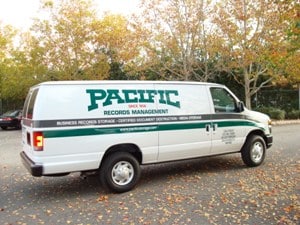 The activity level of your documents runs the gamut. Some files are handled daily while others may be rarely accessed at all. Yet no matter what the circumstances, you have to be able to get the information you need without wasting time. After all, access to your records is vital to the success of your business.
Your information at the click of a mouse
When you store your business records with Pacific Records Management, our retrieval and delivery services enable quick and convenient access to your records at any time. You never have to worry about searching through boxes or file cabinets to find that document. We pinpoint exactly the information you need and deliver it to you. A click of the mouse gives you all the information you need about your off-site retention inventory!
How our retrieval and delivery service works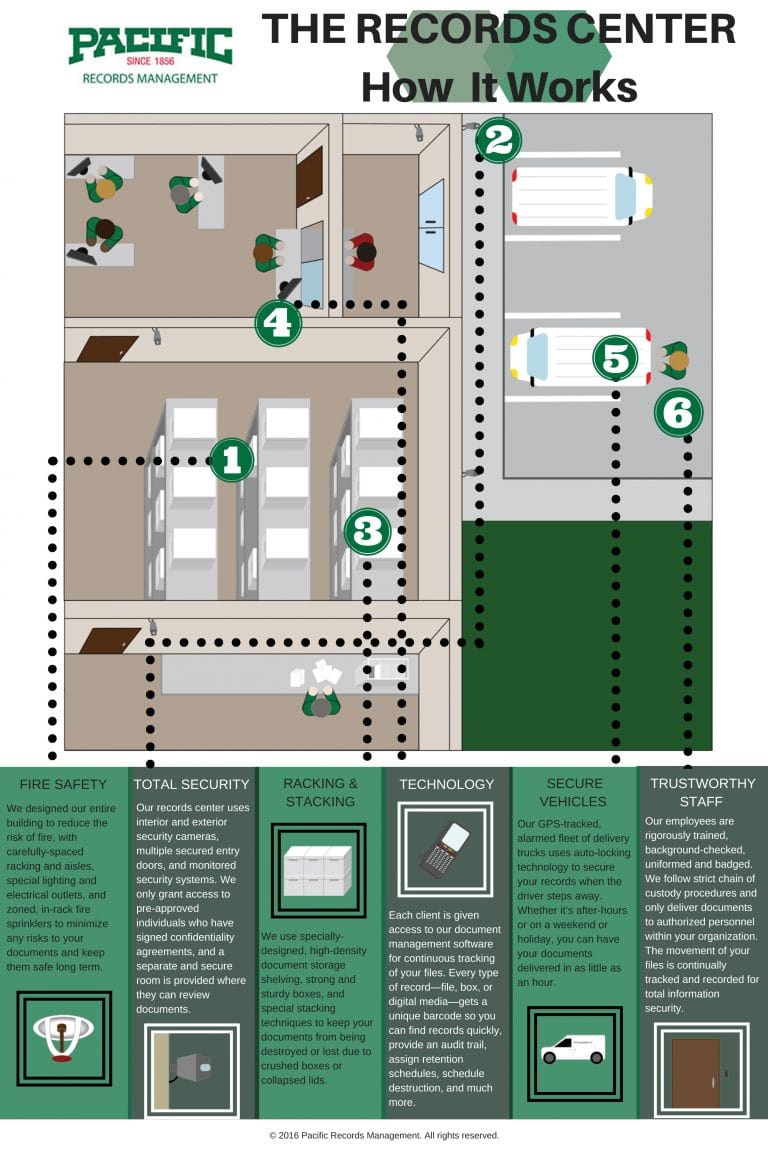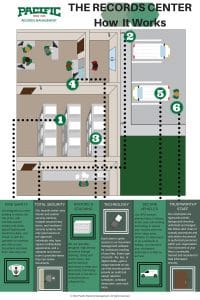 Each records storage carton transferred to Pacific Records Management's records center is assigned a unique barcode label and shelf location which provides comprehensive tracking of your documents during the entire retention lifecycle. Our automated inventory tracking system features a secure web portal that allows you to view your records online by:
department
type
retention period
client
When a document is requested, we retrieve it from an assigned shelf location, validate its status with Symbol wireless barcode scanners, and place the item on a secure, alarmed Pacific Records Management vehicle. One of our professional couriers delivers the record directly to the authorized requestor within your organization and an electronically-generated receipt is emailed to the recipient confirming delivery.
We take privacy protection seriously
A strict chain of custody is critical in maintaining the confidentiality of your records and ensuring compliance with the following privacy protection regulations:
Pacific Records Management has implemented stringent procedures and processes for maintaining a thorough audit trail for your records inventory at all times. We also do not outsource any portion of our retrieval and delivery services. All of our couriers are screened Pacific Records Management employees.
More options to meet your records retrieval and delivery needs
We offer several retrieval and delivery options to meet the time-sensitive needs of your requests, including next-day and same-day service. Our expedited two-hour retrieval and delivery service is available for those especially time-sensitive requests. We can deliver your records to you after hours, on weekends or even holidays! And don't forget about our Scan on Demand solution that enables your records to be converted to electronic images and sent to you digitally when requested.
To find out more about Pacific Records Management's retrieval and delivery services, please contact us by phone or complete the form on this page.