PRISM Privacy+ Certification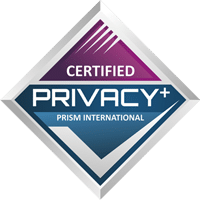 Entrusting your most important and confidential information to a records management company requires more than a leap of faith. You must have full confidence that your provider is handling your documents and data with utmost security and in a manner that complies with state and federal regulations. PRISM Privacy+ Certification is the only third-party verification that shows a records and information management (RIM) company is committed to the very highest information security standards.
Our Privacy+ Certification
Pacific Records Management is a PRISM Privacy+ Certified records management provider. Privacy+ Certification is administered by Professional Records and Information Services Management (PRISM) International, the authoritative, not-for-profit trade association for the commercial records and information management industry. To achieve our Privacy+ Certification, we passed a stringent audit that reviewed several areas of our company, including:
Information security
Physical access controls
Vendor management
Network security
Electronic access
Although Privacy+ Certification is voluntary for companies that handle physical storage, hard-copy records, and off-line removable computer media, Pacific Records Management believes investing in leading edge resources, systems, and technology to achieve Privacy+ Certification demonstrates our commitment to ensuring the privacy of your information.
Security Standards
Pacific Records Management's Privacy+ Certification requires us to maintain strict security standards that prevent unauthorized access to your documents and data. We maintain a detailed information security plan and privacy policy statement. Our records center, media vault, shredding facility, and vehicles feature strict physical access controls, including:
State-of-the-art surveillance technology
Motion detection systems
Biometric security access
24/7 monitoring
An appointed manager is responsible for overseeing and monitoring our security policy to ensure continuous compliance with Privacy+ standards.
Pacific Records Management is proud to be one of the few select group of companies around the globe who are Privacy+ Certified.
For more information about our Privacy+ Certification or full suite of records management solutions, please call us at 800-685-9034 or complete the form on this page.