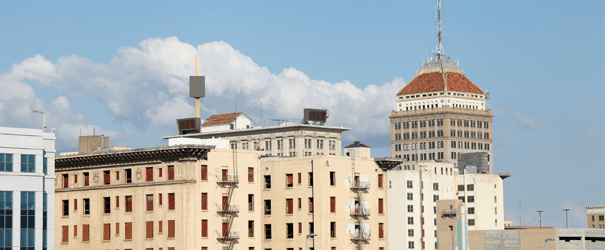 Our Fresno Location
5661 N Golden State Blvd., Fresno, CA 93722-7765
(559) 422-6086
Please complete the form on this page if you are looking to contact someone from our Fresno Location.
Learn more about our services in Fresno:
As the cultural capital of the San Joaquin Valley, Fresno boast a vibrant art scene and multitude of entertainment options, from the Fresno Art Museum to Art Hop; from the sounds of the Fresno Philharmonic to the beauty of Woodward Park.  Fresno's business community is comprised of an array of industrial, financial and commercial companies which Pacific Records Management has had the pleasure of serving for over 150 years.
Proud to serve Fresno's business community
Pacific Records Management's facilities offer document storage and shedding solutions for clients throughout Fresno and the Central Valley.  Our commercial records center is designed for long-term preservation and protection of business documents and files.  Our National Fire Protection Agency (NFPA)-standard facility features best-in-class fire detection and suppression technology, and also offers the following benefits:
24/7/365 digital surveillance
backup redundancy systems
access monitoring
Sonitrol intrusion protection
records inventory management
barcode tracking of files
We provide Records Storage clients with continuous access to their record retention inventory at all times.  Our Retrieval and Delivery service provides on-demand retrieval of documents and files as well as the following options:
next-day delivery
same-day delivery
rush two-hour delivery
No matter where you're located in Fresno County, we make sure you get the information you need, when you need it.
Pacific Records Management's NAID AAA Certified Shred Services also provide Fresno's business community with the area's most reliable and trusted document destruction resource.  Our document shredding plant meets the highest privacy protection standards and features:
restricted access
screened professionals
documented operational policies
CCTV image capture and retention
We also provide a Mobile Shredding solution that allows for documents to be destroyed onsite at your Fresno facility!
To find out more, please contact us by phone or complete the form on this page.