Document Scanning Services
To Scan or To Store?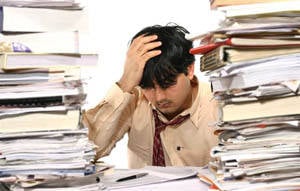 Managing a trail of paper records can be a daunting task for any business. You need to be properly store and manage your documents. They must be accessed in a timely manner in order to support your business processes and meet regulatory requirements. Properly and efficiently converting files to a more convenient digital format requires expertise, equipment and processes most organizations don't have.
Convenient, Affordable & Secure Services
Pacific Records Management's outsourced document scanning services provide an affordable and convenient solution for the successful conversion of paper records into a digital file format. We provide a thorough consultation that enables us to customize a scanning solution that best fits your business needs and budget. While our project management process allows for the timely and precise completion of your conversion project.
We commit to preserving the security of your business records during the scanning and conversion process. We train our screened scanning experts to handle private and confidentiality information while maintaining strict chain of custody protocol during the transfer, scanning and conversion phases.
Our Document Scanning Solution Process
Your documents are transferred in GPS-tracked and alarmed vehicles to our secure document scanning facility where they are prepped for scanning.
We remove binders, staples, paper clips, sticky notes, etc.
High-speed, production-grade scanners capture and convert your hard copy documents to electronic images.
Our quality control staff follows strict procedures to ensure that we accurately capture each image.
Indexing software is used to make your documents searchable by specific keywords. While Optical Character Recognition (OCR) technology gives you the ability to search for any phrase within a digital file.
We transfer your digital data to a media format of your choice.
Scan on Demand Services
For clients looking for a secure off-site storage solution combined with the accessibility of electronic documents, Pacific Records Management offers Scan on Demand services. This budget-friendly solution allows you to store your files off-site and scan important documents on an as-needed basis.
The advantages of document scanning include the following:
Improved personnel productivity
Quality control and workflow improvements
Elimination or reduction of misfiling and document loss
Reduced paper use
Storage space cost reductions
Improved customer service
Chain of custody management and reporting
Nearly infinite search capability
24/7/365 document access
Information security
Reduction in data breach liability
Concurrent authorized user access
Document imaging is an efficient electronic document management system. This powerful tool provides your organization's authorized users with the ability to capture, store, and archive their documents for convenient retrieval and sharing.
For more information about how our document scanning solutions can reduce your overhead business costs, please contact us by phone or complete the form on this page.