Document Scanning & Imaging Projects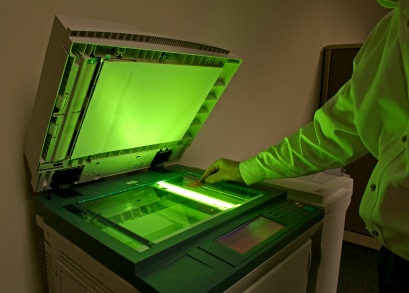 Pacific Records Management's outsourced document scanning services provide an affordable and convenient solution. A solution for the successful conversion of paper records into a digital file format. We provide our clients with an expert consultation that enables us to customize a scanning solution that best fits your business needs and budget. Whether you have one time imaging project or require ongoing document scanning, we guarantee the timely and precise conversion of your hardcopy documents and files.
Our Document Scanning Process
We are committed to preserving the security of your business information during the scanning and conversion process. Our scanning professionals are trained to handle private and confidential information. All while maintaining strict chain of custody protocols throughout the transfer, scanning and conversion phases of your scanning project. Our scanning process works like this:
We transfer your confidential documents to our secure document scanning facility via a GPS-tracked and alarmed vehicle.
During the document preparation phase, we remove all binders, staples, paper clips, and sticky notes.
Our high-speed, production-grade scanners capture and convert your hardcopy documents into images.
Implementing our strict quality control process to ensure that each image was accurately captured.
We re-image any documents that don't meet our high standards of accuracy and clarity.
Our indexing software to make your documents searchable at the file level according to your customized needs. And Optical Character Recognition (OCR) technology gives you the ability to search for keywords and phrases anywhere within your digital documents.
Your digital documents are transferred to a media format of your choice, such as DVD or encrypted hard drive, or to our secure servers.
Secure Online Document Storage
Our data center is located within a secured facility that has undergone rigorous SSAE16 auditing and is served by multiple fiber optic carriers for fast connectivity. It also features redundant systems to provide you with reliable access to your documents. This secure storage option allows authorized users from your company to search, view and share your digital documents as long as they have internet access. Our software accommodates a wide variety of devices and operating systems.
When Scanning is Complete
Upon completing your scanning project, we restore your original documents to their original file structure, complete with binders, staples, paper clips, and sticky notes. Afterwards we transfer them to our off-site records storage center. Or if you like, we can transfer them to our shredding plant for NAID AAA Certified destruction. If you're not sure what to do, our document scanning experts will help you find the solution that best fits your situation.
For more information about our document scanning and imaging services, please contact us by phone or complete the form on this page.