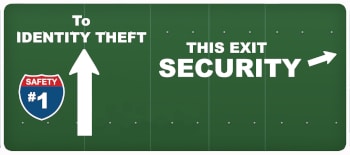 Identity thieves are active during the holiday shopping season, which is why December is National Identity Theft Prevention and Awareness Month. In this blog, we offer strategies for keeping your personal information under wraps.
1. Shop Safe Online
With more Americans shopping online in 2020, cyber criminals are more active than ever. Always use a secure connection when shopping online. Update the security settings on your computer and encrypt your internet router. Verify the websites you are shopping on are secure. Only make purchases on websites that begin with https:// which use secure sockets layer (SSL) technology. Otherwise, your credit card information is at risk and may be stolen by thieves.
2. Keep an Eye on Your Mail and Packages
Because mail and packages can accumulate during December, your porch may offer a thief an easy pathway to your identity. Try to collect your mail as soon as it is delivered and never leave it in your mailbox overnight. Invest in a mailbox with a lock. Avoid mailing bills and other sensitive correspondence from your mailbox. Drop them in an official U.S. Postal Service mailbox instead.
Set incoming shipment and delivery alerts with so you know when your packages have been delivered.
3. Swipe Carefully
Credit card skimmers are difficult to spot, especially at stand-alone ATMs and gas station payment terminals. Tug on the card reader before swiping your card. If it is loose, do not swipe. If you have any suspicions about the card reader at the pump, go inside to pay.
4. Shred Documents
Credit card offers, junk mail and charitable donation offers accumulate in December. It is no surprise thieves sift through trash and recycling bins, looking for carelessly-discarded personal information. Shred unwanted receipts, financial records, and bank statements often. A residential shredding service offers a secure and reliable solution for destroying confidential documents and files.
5. Monitor Your Credit
Since identity theft spikes in December, monitoring your credit is essential. Check your bank and credit card statements for fraudulent transactions. If you have yet to request your free annual credit report this year, do so by December 31st.
By following these tips, you can protect your identity during December and beyond.
If you are ready to go paperless and want a trusted document imaging solution, please call us at 800-685-9034 or complete the form on this page.
Pacific Records Management provides records management services for businesses throughout Fresno, Stockton, Sacramento, Modesto, and Napa and Solano Counties.