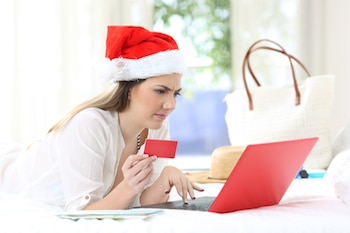 The holiday season is the peak time of year for shopping, gift giving, and donating to your favorite charities. It's also prime time for identity theft and scams. Scammers and identity thieves come out in full force during the holidays. In this blog, we offer six tips for safeguarding your identity and wallet.
---
1. Guard Your Smartphone
Your smartphone contains a treasure trove of personal and financial data. Always keep close tabs on it. Avoid storing your phone in the outside pocket of a bag or purse. In addition to preventing your phone from being stolen, update its security settings. Use a screen lock and if your phone has advanced security features, use them.
2. Don't Fall for Scams
During the holidays, your email inbox is inundated with promotions from a wide variety of retailers. Keep a close eye out for phishing or other scams posing as legitimate offers. Never click on links sent from companies you don't recognize. To verify whether an offer is legitimate, open your web browser and visit the vendor's website to see if it can be found there.
3. Beware of Public WiFi
As you are out shopping and running errands, it may be tempting to use the many WiFi connections available, like the one in your favorite café or department store. But public WiFi hotspots are widely used by cybercriminals to steal consumer data. Because they often lack advanced encryption tools, nearly anyone can view the information you send and receive. You're better off using your mobile data connection or waiting till you get home to connect to the internet.
4. Connect Securely at Home
When surfing the web or shopping online at home, always use a secure connection. Update the security settings on your computer and make sure your internet router is encrypted. Only make purchases on websites that begin with HTTPS and use secure sockets layer (SSL) technology. That way you know your credit card information is encrypted and sent to the retailer and not intercepted by thieves.
5. Monitor Your Credit
Since identity theft crimes spike during the holiday season, it's important to monitor your credit. Regularly check your bank and credit card statements for fraudulent transactions. If you haven't requested your free annual credit report this year, do so before Jan 1st.
6. Shred Unwanted Documents
Tons of paper passes through your hands during the year. Thieves often sift through trash and recycling bins, looking for carelessly-discarded personal information. Be sure to shred unwanted receipts, financial records, and bank statements frequently. A residential shredding service offers a secure and reliable solution for destroying holiday paperwork.
Pacific Shredding provides shredding services for businesses and residents of Fresno, Stockton, Sacramento, Modesto, and Napa and Solano Counties. For more information, please call us at 800-685-9034 or complete the form on this page.