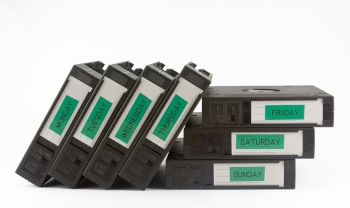 Your data is the lifeline of your business. As a result, it's critical to consider how your backup media is protected and managed. In this blog, we answer your media storage and rotation questions.
Q: What are best practices for protecting my backup data?
A: Your backup media should be safeguarded from unauthorized access and unforeseen disasters. A media vault offers a combination of biometric hand recognition, intrusion prevention, digital surveillance, and security systems to prevent your data from falling into the wrong hands. The facility is designed with specialized technology, including clean-agent, waterless fire suppression to prevent physical damage to your media.
Q: Why shouldn't I store my backup tapes in a safe?
A: Temperature and humidity fluctuations can destroy data. A media vault is equipped with advanced climate-control systems that far surpass those of a warehouse, general storage facility or safe. Temperature and humidity controls that meet ANSI standards ensure the long-term preservation of your data.
Q: How do I keep track of my backup media?
A: Partner with a data protection provider who offers media rotation services. They bar code your tapes and cycle them back to you on a set schedule or as needed. You can manage your media, customize a rotation schedule, and retrieve tapes through your provider's secure web interface.
Q: When can I retrieve my backup tapes?
A: With a media storage and rotation service, your media is available to you 24/7/365. At your request, a security-screened data protection professional securely transports your tapes from the media vault to your facility in a GPS-tracked and alarmed vehicle.
Q: I have old backup tapes. Should I store them in a media vault?
A: Whether you have active or archival media, your data protection provider can store it for you. If you have obsolete backup tapes, invest in a hard drive shredding service. A recent study released by the National Association for Information Destruction (NAID) found that 40 percent of used electronic devices sold on the secondhand market contained personally identifiable information (PII) and protected health information (PHI). A hard drive shredding service pulverizes your hard drives into miniscule particles, rendering them unreadable so sensitive data is not exposed.
Pacific Records Management provides records and information management services for businesses throughout Fresno, Stockton, Sacramento, Modesto, and Napa and Solano Counties.
For more information about our data protection services or to schedule a tour of our media vault, please call us at 800-685-9034 or complete the form on this page.