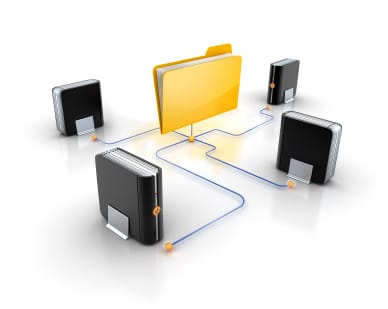 A focus on safeguarding and preserving data is the foundation for any business continuity and disaster recovery plan. The ability to recover critical data at a moment's notice can affect your organization's long-term viability. Protecting confidential business and client data from theft, loss and destruction are integral parts of corporate due diligence. Pacific Records Management's suite of data protection services help our clients preserve their data while also meeting information protection regulations.
Off-Site Data Storage and Media Rotation
Integrating an off-site storage solution into your backup routine helps prevent a catastrophic loss of data. Pacific Records Management's Class 125, 4-hour rated Durasteel media vault is designed especially for the storage of backup media. Environmental temperature and humidity controls meet ANSI standards and help to preserve your magnetic and optical media over the long term. In the event of a disaster or an audit, you are assured the integrity and reliability of your data. A combination of biometric hand recognition, intrusion prevention, and digital video surveillance systems provide reliable, round-the-clock security.
Whether your backup schedule is daily, weekly or monthly, a Pacific Records Management professional courier will securely transport your media tapes to our media vault in a GPS-tracked and alarmed vehicle. Your media is barcoded and its movements and storage location within the vault are tracked to allow for rapid retrieval and delivery. A web interface to our inventory control system allows you to manage your tapes, adjust your rotation schedule, and recall specific volumes.
E-Vaulting
Pacific Records Management's E-Vaulting services eliminate the risks associated with backing up data internally. Our data protection experts will work with you to help identify the key data on your office network. Once your key data has been identified, we will remotely back up your data online during off hours where it is automatically sent to our electronic vault.
Your data is encrypted and secured through a network that has a number of built-in safety and security measures. In the event of a disaster or emergency restore, your vital data can be deployed to any business location within hours.
Secure Destruction
When your backup media has reached the end of its useful life, it's crucial not to break the information security chain that was so carefully maintained during the backup lifecyle. To be absolutely sure your confidential information stays that way, use Pacific Records Management's Hard Drive Shredding Services to securely destroy your hard drives, backup tapes, optical media, and more.
From creation to destruction, we help protect your organization's sensitive information. For more information about our Data Protection Services, contact us by phone or complete in the form on this page.