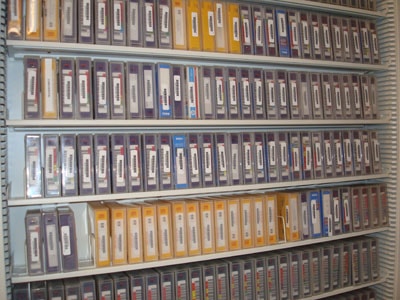 The long-term storage of archival media requires an environment that preserves data while also protecting that data from theft and disaster. Additionally, organizations have a legal and regulatory obligation to produce data contained on media tapes and hard drives. Unfortunately, magnetic media is extremely sensitive to temperature and humidity changes. As a result, archival media recalled for litigation or auditing purposes may contain corrupted data.
Pacific Records Management has implemented facilities and systems to insure the long term preservation and protection of our clients' archival data. Our data protection facilities have been built in accordance with City and NFPA 232 Standards for the Protection of Records and are equipped with a Class 125 4 hour rated Durasteel media vault especially designed to protect and preserve backup media. Enhanced security systems provide continuously monitoring for our vault. A biometric hand recognition intrusion system and digital video surveillance equipment provides monitored access to only Pacific Records Management data protection professionals.
Because the slightest temperature and humidity fluctuations can damage archival media, we provide continuous, round the clock environmental monitoring of our vault facilities. Temperature and humidity controls based on ANSI standards insure the long term preservation of magnetic and optical media so that in the event of an emergency restore or audit you are assured the integrity and reliability of your data. Racking systems within our vault allow for the slotting of both containerized and individually slotted media while high density storage shelving prevents your media from being exposed to light and dust.
Since traditional water sprinklers can damage archival media, we've installed a Novec 1230 fire suppression system specifically designed to protect media. When engaged, this gas based fire suppression agent does not leave any residue that could compromise your data. It is the highest form of fire protection you can afford your archival digital assets.
Pacific Records Management's inventory control system allows for the secure tracking of your data within our vault. A secure web interface allows you to manage your archival inventory, send media off-site and recall specific volumes. Your archival inventory is available to you 24/7. In the event of a disaster, a Pacific Records Management professional courier will deliver your archival media to your business or hotsite in a GPS tracked and alarmed vehicle.
To find out more about our archival data storage services, please contact us by phone or fill in the form on the page.