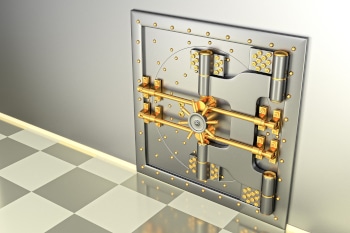 Running out of room to store your business files? Wondering how a professional records storage service works? In this blog post, we take you inside a records center.
Security
Only background-screened, security cleared records management professionals may enter a records center. Visitors must show identification, sign a confidentiality agreement, and are escorted by authorized personnel during their visit. All activity in a records center is recorded with surveillance cameras and motion detection systems. These security technologies and protocols prevent unauthorized access to sensitive and confidential documents.
Disaster Recovery
California is prone to natural disasters. As a result, records centers in California must meet standards set forth by the National Fire Protection Association (NFPA) and California Department of Public Health (CDPH) and must withstand earthquakes, fires, and floods. As a result, documents in a records center are stored on shelves constructed of solid steel with cross-braced beams bolted to the ground. Zoned, in-rack sprinklers decrease fire risks. Behind the scenes, back-up systems offer continuous protection in case of power losses.
Tracking
Without the right technology, managing hundreds of thousands of documents is impossible. A records center features and advanced inventory management and bar code tracking systems. Every box is assigned a unique bar code so it can be tracked throughout the duration of its retention period. Record center clients receive secure online access to document management software so they can find their records quickly, assign retention schedules, and request pickups and deliveries. This provides a complete audit trail for their off-site inventory and allows for the quick retrieval of records any time.
File Pickup and Delivery
Outside a records center, a fleet of alarmed and GPS-tracked vehicles are on 24/7/365 stand by to pick up and deliver documents. Each vehicle features auto-locking technology to keep client records secure, even after the driver steps away. Whether, after hours, on a weekend or a holiday, documents are delivered to records storage clients in as little as an hour.
As you can see, a records center is the most secure, efficient, and cost-effective place to store your business records.
Pacific Records Management provides records and information management services for businesses throughout Fresno, Stockton, Sacramento, Modesto, and Napa and Solano Counties.
For more information about our records storage services or to schedule a tour of our records center, please call us at 800-685-9034 or complete the form on this page.