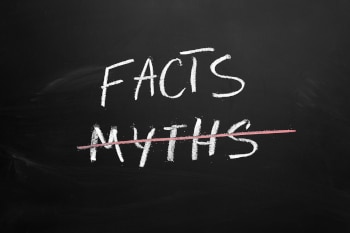 Without the right information, knowing how to store documents is confusing. Should you keep them in-house or rent a self-storage unit? In this blog, we hope to clear up any misunderstanding. Here are four common document storage myths that can prove costly for your organization.
Myth 1: Documents Stored in an Office Are Secure
Few organizations have security protocols that protect confidential documents from unauthorized access. Off-site records storage in a records center safeguards personally identifiable information (PII) and protected health information (PHI). A records center protects your documents from natural disasters and unauthorized access. Only background-screened and authorized records management professionals may enter the facility. Upon your request, they deliver your files in a GPS-tracked vehicle.
Myth 2: Documents Must Be Stored Forever
Not every document must be stored forever. In fact, most documents have limited lifespans. Keeping them longer than necessary increases your risk of identity theft, business fraud, and legal liability. With a records storage service, your provider helps manage your retention inventory, so you keep nothing longer than necessary.
Myth 3: Off-Site Document Storage Is Too Hard
Searching through file cabinets can take several minutes per document, and you never regain that lost time. Off-site records storage keeps your documents organized and streamlines your retrieval processes. Your records storage provider transfers your documents to a records center and tracks them with barcodes. With the click of your mouse, your documents are hand-delivered to you the same day or sent to your computer with a Scan on Demand service. Off-site records storage is much easier than in-house storage.
Myth 4: Records Storage Compliance Does Not Matter
Knowing what records to keep, and for how long, is essential to legal and regulatory compliance. A document storage service protects and manages your records during their retention lifespan. You receive a comprehensive audit trail of your storage, retrieval, and final disposition activities.
Understanding these document storage misconceptions can save you time and money.
Pacific Records Management provides records and information management services for businesses throughout Fresno, Stockton, Sacramento, Modesto, and Napa and Solano Counties.
For more information about our records storage services or to schedule a tour of our records center, please call us at 800-685-9034 or complete the form on this page.