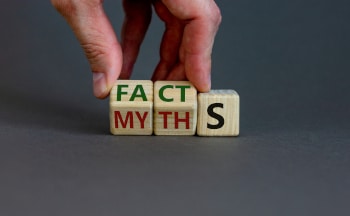 As a business owner, you know your data best. But you may not know the best way to protect it. In this blog, we debunk several data protection myths.
Myth 1: My Data is Safe When I Take My Backup Tapes Home
Taking your backups home is a liability. Your tapes can be lost or stolen while you drop your kids off at school or stop at the store to pick up groceries. If you are not home when disaster happens, you cannot restore your data. You are better off partnering with a data protection provider who offers a tape rotation and storage solution so your media is protected, preserved, and tracked in a specialized media vault. Temperature and humidity controls that meet ANSI standards ensure the long-term preservation of your data. Biometric hand recognition, intrusion, and digital video surveillance systems offer 24/7 access control and security monitoring.
Myth 2: I Am the Best Person to Handle My Data
If customer data or financial information is compromised while in your possession, you can be held liable. Only trained, background-checked data protection professionals should handle your data. They should be uniformed, badged, and adhere to strict chain of custody protocols when storing and transporting your media assets.
Myth 3: My Office is Disaster-Proof
No business is disaster-proof. Power loss, theft, fires, floods, and natural disasters do not discriminate between companies. Your data protection plan should assess potential risks to your business and how they may affect your data recovery ability.
Myth 4: One Backup per Week is Enough
Weekly backup may be enough for businesses that create little data. But if your company creates a large volume of data, weekly backup will not offer the data protection you need.
Myth 5: Cloud Backup is Unsafe
It may be difficult to believe that data stored beyond your reach is safe, but with a reliable E-vaulting solution, your data is encrypted, transmitted through a secure network with layers of advanced security, and stored in an electronic vault. In the event of a disaster or emergency restoration, your backup data can be rapidly deployed to any business location or hot site within hours.
Myth 6: Tape and Hard Drive Destruction is Only for Regulated Businesses
Businesses covered by HIPAA, FACTA and GLB must securely dispose of expired data or face fines. But businesses not covered by these laws should also dispose of unwanted tapes and hard drives securely. A single device can store hundreds of thousands of confidential data files. Deleting digital files from a device does not obliterate the data. With the right tools and software, identity thieves and criminals bent on business fraud can still extract information from a tape or hard drive. Physical destruction of your devices is the best way to reduce your company's data breach exposure. A hard drive shredding provider uses state-of-the-art shredding technology to pulverize your hard drives into miniscule particles, so sensitive data is not exposed.
Pacific Records Management provides records and information management services for businesses throughout Fresno, Stockton, Sacramento, Modesto, and Napa and Solano Counties.
For more information about our data protection services or to schedule a tour of our media vault, please call us at 800-685-9034 or complete the form on this page.