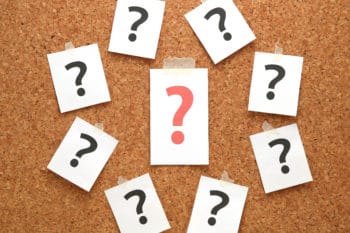 Finding a dependable document storage provider takes patience and requires due diligence. In this blog, we help you streamline your decision-making process by offering several key questions to ask a prospective vendor.
1. How long have you been in business?
Your retention inventory may have to be stored for several years, so you need assurance your document storage provider is committed to your business for the long term. Choose a records storage company who has been a longtime member of the records management industry and understands the importance of protecting and managing information assets. The longer they've served your community as a "go-to" provider, the better.
2. How are my documents protected?
Verify your prospective document storage provider's security systems and procedures. The storage facility should have the following security equipment:
Surveillance cameras

Secured entry doors

Monitored security systems
Your records should be delivered by a screened and uniformed courier in a GPS-tracked and alarmed vehicle. An electronic receipt should be provided with every delivery.
3. How do I request document deliveries?
It should be easy to request documents and files from your document storage provider. Verify whether yours has a client web access system so you can easily schedule document pickups and deliveries.
4. When can I make requests?
It's important to partner with document storage provider who ensures seamless access to your information. Items in your off-site inventory should be available to you 24/7/365 so you can make a request during business hours, on the weekends, and even during holidays.
5. How long does it take for documents to be delivered?
You have time-sensitive information access needs and shouldn't have to wait to receive your documents. Make sure your document storage provider offers an array of delivery options, including:
Next-day delivery

Same-day delivery

Two-hour retrieval and delivery

Scan on Demand digital delivery
6. What industry associations do you belong to?
You can gain a ton of insight about a prospective document storage vendor by verifying industry memberships. The following affiliations confirm your provider's commitment to industry best practices and standards:
PRISM International (Professional Records & Information Services Management)

NAID (National Association for Information Destruction)

AIIM (Association for Information and Image Management)

NRC (National Records Centers)

ARMA International (Association of Records Managers and Administrators)

NFPA (National Fire Protection Agency)

DPA (Data Protection Agency)

ALA (Association of Legal Administrators)

CAMGMA (California Medical Group Management Association)
Asking these questions and verifying the answers will help you choose a document storage provider who offers dependable service, unparalleled security, and personalized support.
Pacific Records Management provides records and information management services for businesses throughout Fresno, Stockton, Sacramento, Modesto, and Napa and Solano Counties. For more information, please call us at 800-685-9034 or complete the form on this page.