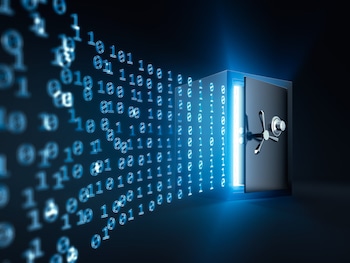 There's no shortage of vendors who offer data protection services, but choosing the right provider for your specific business needs can be a challenge. In this blog, we offer seven questions to ask a potential data protection partner:
---
1. Where is my offline data stored?
Any provider can store backup tapes in a room protected only with a padlock. But don't your media assets deserve—even require—a higher level of security? Partner with a data protection provider who offers a secure media storage solution. Your media is protected, preserved, and tracked in a specialized media vault. Temperature and humidity controls that meet ANSI standards ensure the long-term preservation of your data. A combination of biometric hand recognition, intrusion, and digital video surveillance systems offer 24/7 access control and security monitoring.
2. Can I change my media rotation schedule?
You've set a backup routine that works for your business. Over time, that routine may change, so you need flexibility. Beware of vendors who box you into a restrictive media rotation schedule. Choose a data protection provider who can scale a solution to adjust to your ongoing needs.
3. How is my media inventory managed?
It's not worth investing in a data protection service if your information isn't properly managed. At the very least, your partner should use an inventory control system for continuous tracking and management of your media assets. A web interface to the inventory control system allows you to manage your media assets, adjust your rotation schedule, and recall specific volumes.
4. When can I access my media?
Business interruptions and disasters can happen anytime. That's why you need continuous access to your data, even when it's stored off-site. Only partner with a data protection provider who offers 24/7/365 access to your information.
5. Who handles my data?
You can be held liable if customer data or financial information fall into the wrong hands. That's why only rigorously-trained, background-checked data protection professionals should handle your data. They should be uniformed, badged, and adhere to the strict chain of custody protocols when storing and transporting your media assets.
6. How is my data protected when stored in an E-Vault?
Don't assume that every E-Vaulting service offers the same level of security. Only partner with a data protection provider whose E-Vaulting service encrypts your data and secures it within a network that features advanced security measures. In the event of a disaster or emergency restore, your vital data is deployed to you within hours.
7. What other services do you offer besides data storage and media rotation?
Data protection isn't just about securing your information; you also need a secure final disposition solution. Partner with a data protection provider who offers hard drive shredding services. That way, you have an end-to-end security solution for your confidential data.
When choosing an off-site data security vendor, don't forget to ask these questions.
Pacific Records Management provides data protection solutions for businesses throughout Fresno, Stockton, Sacramento, Modesto, and Napa and Solano Counties.