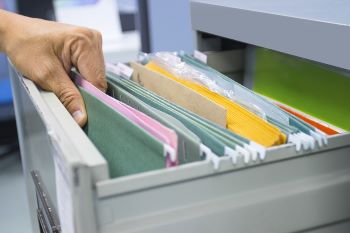 With the introduction of the personal computer in the 1970s, it was predicted that our society would be paper free by the 21st century. In fact, offices have reduced paper consumption by 20% since then, but the US population has also increased by 40%. All that to say, as our digital world has grown, hard copy documents still have a prominent place in offices, which means that your attention to protecting those documents must not waver.
The two key factors in protecting your hard copy data are organization and security. Here are our tips for both.
Get Organized
Do a full inventory of all records and have them properly indexed. A surprise audit could require that you retrieve a specific file, and without proper indexing, this could be difficult and time consuming. A well-indexed file system gives your business the advantage of serving your clients efficiently, without the frustration for your staff and clients caused by disorganized files.
Develop a retention and destruction schedule to monitor your information and make sure your documents are securely shredded at the end of their lifecycle. When your files are kept beyond their retention dates, you are in non-compliance with data privacy laws and put your business at risk of a data breach.
Schedule regular audits of your files. Many businesses start off with good intentions, but a file system in a busy organization rarely stays organized. By having a regularly scheduled audit, you can correct any issues before they become critical and keep your system organized and efficient.
Implement Physical Security Measures
With an organized file system, it will be much easier to ensure your hard copy data is protected. Here are some questions to consider when evaluating security for your hard copy data:
Where will we store our hard copy files? Do they need to be offsite? Utilizing off-site storage has benefits, but be sure to avoid common mistakes. For instance, self-storage units are not designed for documents. The physical reality is, self storage won't protect your data from theft or damage. Your home and other employees' homes are also not secure, and may even violate insurance policy requirements. The safest and most cost-effective solution is to partner with a local, reputable records management provider that offers compliant services in a protected environment.
Do we really need to keep archival documents on site? Some documents, such as deeds, trusts, maps, photographs, and manuscripts are considered official, archival records. With these, a copy will usually suffice for daily use and the rarely-needed original can be stored in the records center until it is required.
Do we send backup data off site? Data backups are vital in the event that you should be hit by a natural disaster, ransomware attack, or system failure. Keeping backups in separate locations is necessary to protect the documents themselves and, in the event, should a disaster recovery process need to be initiated. A best practice to implement is to have three copies of your data: one onsite, one in the cloud, and one on physical backup media stored in a data vault.
Are our documents protected against fire, flooding, or other disasters? Depending on your location, these events may be unlikely to occur—but they do happen, sometimes when you least expect it. While your building is likely not purpose-built for document storage, you can partner with a records management provider that has a specialized document storage facility. Storing your documents in an environment where the building itself was designed to protect its contents, including fire suppression and climate control systems, will protect and prolong the life of your hard copy documents.
Are our documents protected against unauthorized access and theft? Is your building designed to keep thieves out and alert you should there be a breach of the premises? What about internal theft? Who has access to your files? Are there surveillance cameras onsite? Who monitors them? Is your hard copy data protected by physical access controls? A state-of-the-art records center is designed specifically with all these protections in place so you can rest assured that your documents are secure, only accessible by authorized individuals with each access tracked in a security log.
Pacific Records Management offers a full range of options for records and information management, including safe and secure off-site document storage. We store archival and active documents and you can request them 24/7/365, either via physical delivery or Scan On Demand. For more information, call us at 800-685-9034 or complete the form on this page. Our friendly records management experts are standing by to answer all your questions.