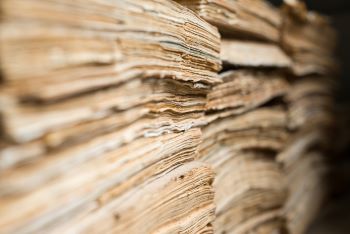 On December 27, 2021, when the Robert E. Lee statue in Richmond, Virginia was removed, a time capsule believed to be 135 years old was discovered underneath. Governor Ralph Northam Tweeted, "This is likely the time capsule everyone was looking for."
This true story illustrates how historical records can be lost and damaged in an attempt to preserve them. Even if they are found and can be conserved, they are often dependent on stories, speculation, and calculation to determine their origin and meaning. Burying documents underground may decrease the risk of discovery and theft, but leaves them at the mercy of the elements. Unfortunately, many records are destroyed this way and lost forever.
In contrast, well-preserved and properly-stored original documents provide more accurate information about their contents as well as their context. If you want to preserve your historical documents for future generations, consider these important factors:
Preparation and Handling
Wash and dry your hands before handling historical documents, and consider using gloves. Never use fasteners or adhesives because they stain, tear and ruin paper. Never laminate documents—some legal documents become void when laminated. Lamination is permanent and decreases the value of the document. Never fold historical documents. Use boxes and folders that are the correct size. Don't overstuff or let documents spill outside containers and folders.
Climate-Controlled Environment
Store documents in a cool, dry and dark area. Papers should always be stored in acid-free, alkaline materials (boxes, folders, mats) or in polyester film folders. Be aware that basements and attics are the most common storage locations, but they are the worst places to store any type of document, especially historical documents. The Library of Congress suggests an ideal storage temperature of below 72 degrees Fahrenheit and a relative humidity (RH) of 35%. RH below 15% can cause paper to become brittle and crumbly.
Off-Site Storage
Consider storing your documents offsite if you lack the space or lack the proper environment or security. Professional handling, facility security, and avoiding fire or flood disasters is critical. Partner with a reputable, professional records management company to keep your historical and archival document safe and secure. Make sure they offer 24/7 retrieval and delivery of your originals as well as Scan On Demand so you can receive an electronic copy if you need it. Insure valuable or irreplaceable documents as well.
Digital Copying
Preserving original documents is so valuable to the generations to come. There's nothing like having the actual physical document from the past. Unfortunately, so many preserved documents have been lost due to being lost, stolen, damaged or not cared for and the information has been lost as well. This is why it is important to have a digital copy produced. A document scanning service offers a high-quality image while preserving the original. It serves as a valuable backup when you need to reference the document without handling the original unnecessarily.
Professional Help
As romantic as a time capsule seems, storing your historical documents underground or in a cornerstone is completely impractical and may damage the very items you are trying to preserve. Unfortunately, preserving them on your own, above ground, may also be challenging.
Pacific Records Management offers a full suite of records and information management services in Sacramento, Stockton, Modesto, Fresno, and Napa and Solano counties. Founded in 1856, let our experienced professionals and state-of-the-art storage facility preserve your historical documents for the future.
Let us help you store your documents by calling us at 800-685-9034 or completing the form on this page.