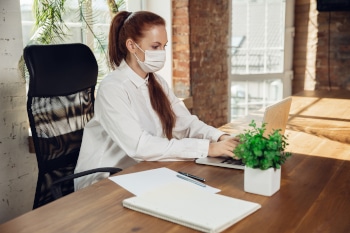 Crises can bring out the best in everyone. During the COVID-19 pandemic, volunteers, first-responders, and essential workers are making an impact during tough times. Unfortunately, cybercriminals and scammers are coming out of the woodwork. In this blog, we discuss data security risks to be aware of during the COVID-19 pandemic.
Cyberthreats
Cybercriminals have stepped up their attacks on businesses. Security-savvy employees are the best defense against cybersecurity threats. As email phishing risks rise, remind your team to scrutinize email addresses and links. Hackers often forge email addresses, pretending to be from an organization the recipient knows. Clicking on an unknown link can cause a data security breach. Remind your employees to scrutinize email addresses and links. If they doubt the legitimacy of an email, have them call the sender for confirmation.
Teleconference Hacking
With social distancing, many companies have shifted to allowing their employees to work from home. Cybercriminals are using this opportunity to exploit security holes in Zoom and other popular video conferencing apps. Take the following steps to keep your online meetings secure:
Update the firmware and software on company-issued devices.
Disable guest screen sharing.
Keep your meeting IDs private.
Require password logins and/or host authorization before attendees can enter the meeting.
Use a virtual private network (VPN) when video conferencing.
Following these simple steps will keep your online meetings secure.
Phone Scams
Scammers are exploiting the COVID-19 pandemic by using telephone calls to steal money and data. Fraudulent calls often involve offers for small business loans, financial aid, and personal protective equipment (PPE). Instruct your employees to screen phone calls. When in doubt, they should hang up the phone and report the call to the Federal Communications Commission (FCC).
Everyone must do their part during the COVID-19 pandemic. Follow these tips to keep your data safe.
Let us know how we can help. Please call us at 800-685-9034 or complete the form on this page. We love hearing from you!
Pacific Records Management provides records management and data protection solutions for businesses throughout Fresno, Stockton, Sacramento, Modesto, and Napa and Solano Counties.