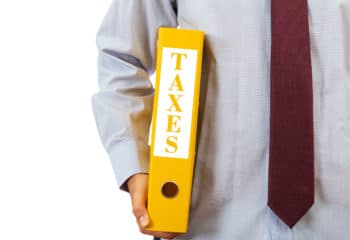 Tax season is one of the most stressful times of year for many small business owners. But there's still plenty of time to get your documents in order and update your records management practices. Here we share several tips you can use during tax season and throughout 2019.
File Early
Filing your taxes early doesn't just increase your chances of receiving an early refund, it can also protect your business from tax fraud. Thieves get to work early in the tax season filing fraudulent returns with stolen tax ID numbers. File as early as possible to reduce your risk exposure.
Check Document Retention Requirements
Understanding record retention requirements prevents you from stockpiling documents or shredding them too soon. While the seven-year retention "rule" may apply to your business, it's wise to check with your accountant or tax advisor for specific document retention guidance.
Digitize Paper Records
The days of stuffing tax records into boxes and lugging them to an accountant are long gone. Converting your tax records to digital images makes it easier to share filing information with your accountant. Remember to remove staples and paperclips before running them through your scanner. Scan everything in order and verify the readability of each scanned file.
Hiring a document scanning provider can save you time. Trained professionals convert your tax-related records to your preferred digital format and use optical character recognition (OCR) software to make each digital file searchable. Your scanned records are transferred to a portable hard drive or to your document management application.
Shred Outdated Tax Records
Identity theft and business fraud crimes spike during tax season. Don't keep tax records longer than necessary. As you're organizing 2018 tax documents, separate old tax filing records into a pile. A document shredding vendor can help you safely purge these documents and any other expired documents by brining secure collection containers to your office.
Back Up Everything
A good backup plan is like an insurance policy: it protects your business from worst-case scenarios. Make duplicate copies of your tax records and filing-related documents and store them off site. Store copies of your paper records in a records center and backups of digital tax documents in a media vault.
For more records management and information security tips, please call us at 800-685-9034 or complete the form on this page.
Pacific Records Management provides records and information management services for businesses throughout Fresno, Stockton, Sacramento, Modesto, and Napa and Solano Counties.