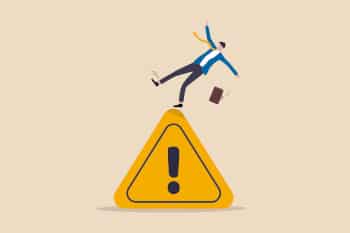 Anyone who isn't looking for ways to lower the expense line and raise the revenue line lacks business savvy. Making good business choices requires the fine balance of trading off financial expenses for increased risk. If you are presently storing your records in a self-storage unit or considering making the move, here are some questions that you should be asking yourself in advance:
1. Is it cheaper?
The unit rental price may seem like a deal, but you are likely renting and paying for more space than you need – unless you are dangerously stacking boxes all the way to the ceiling. And did you happen to include the cost of sending staff to rummage through and find the files needed? Don't forget to include the cost of staff morale and costly insurance claims when employees injure themselves or get into an auto accident while driving to or from the unit. In the long run, you are paying more than you would with a professional file storage service and getting less in return.
2. Is it secure?
Does the storage center have a security system, camera, and staff on site? Even with a perimeter security system, other storage tenants often have unaccompanied access to the units around yours 24/7. This makes your files vulnerable to mishaps, vandalism or theft by tenants and their shady non-tenant friends. One episode of Storage Wars should be enough for you to question storing your business records at a mini storage.
3. Is it professional?
Did we already mention Storage Wars? What would your perception be if you recognized a staff member of a company that had your personal information, digging through business files in a storage locker? Confident would not be the correct answer. Your business reputation is valuable, and it should be treated that way.
4. Is it an effective document management system?
A records management company is insured, has your files barcoded and organized for quick retrieval or scan on demand, and is compliant with the Sarbanes-Oxley Act (SOX), Gramm-Leach-Bliley Act (GLB), Health Insurance Portability and Accountability Act (HIPAA), and more. Compare that to boxes of files stacked in a storage unit and you have both ends of the "document management" spectrum. By the way. The answer is no. It's not effective. See you at number 5.
5. Is it climate-controlled?
Some self-storage units are climate-controlled at significant additional expense, but most are not. "Climate-controlled" isn't just about temperature. Even if a disaster doesn't befall your unit, your documents are susceptible to the effects of humidity, dust, air quality, mold, creepy-crawlies, and so much more. Don't shorten the lifespan of your files (or staff) by risking the air quality of a self-storage unit over a climate-controlled records management system.
6. Is it convenient?
Records management companies offer so many conveniences that will allow you to focus on running your organization in a professional manner. The only thing a self-storage unit has to offer is a musty little haven for your staff to escape to. You can always add that to the staff benefit package, though.
7. Is it protected from disaster?
If you don't have enough evidence that using self storage for business files is a disastrous concept, consider the potential risk of fire, insect infestation, mold and floods that could destroy your information. Every building is susceptible to all of these issues, but the risk level is considerably increased in self-storage, where you're the only one who cares about what's in there. Protect your files and information at a professional records center.
Storing your business files in a self-storage unit is neither cost efficient or professional. Leave the storage units for families storing Grandma Gigi's estate and furniture and consult a reputable records management company for keeping your business secure and professional.
Pacific Records and Shredding is SOX, GLB and HIPAA compliant and serves businesses of all sizes, in all industries, with records and information management services in Fresno, Stockton, Sacramento, Modesto, and Napa and Solano Counties. For more information, please call us at 800-685-9034 or complete the form on this page.