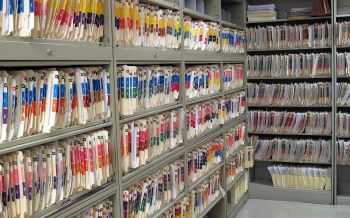 Moving from paper files to digital–or a hybrid of both–in your health care practice has so many benefits.
Switching from paper to digital charts frees up so much space and allows for a smoother workflow than working with paper.
Digital charts allow you to limit your contribution to landfill paper waste.
Paper is getting more expensive all the time.
Paper charts have to be kept physically secure and shredded at the end of their retention period.
Paper is easily misplaced, increasing the risk of a HIPAA violation or data breach.
Paper is vulnerable to damage, and paper charts cannot be backed up.
Moving from paper to digital requires an initial scanning project to move your paper files to electronic storage. It also requires scanning any new paper files that enter the system. Just as you have been staying compliant with HIPAA with regard to your paper files, you also need to do so digitally, beginning with the scanning process.
The Challenges of DIY Scanning
You may be tempted to enlist internal staff members to scan your charts, but there are many challenges in DIY scanning, as you will need to adhere to the following guidelines:
Educate and regularly train staff. Understanding HIPAA rules is crucial for all of your staff to properly scan and handle your patients' records. They should be familiar with definitions, standards for maintaining compliance and be comfortable with implementing the appropriate administrative safeguards. They should be familiar with all privacy rules that influence the HIPAA as well and stay current on state and federal changes to rules. Medical records must be scanned and stored in a manner that maintains confidentiality at every stage of the process.
Implement a backup system. Whether you store paper, digital files, or a combination of both, it is vital to have backup copies that are remote and separate from each other. If your original is damaged, lost, breached or stolen in a ransomware attack, you need to be able to recover it immediately so you can continue to operate and solve the problem at the same time. Exact copies of PHI must also be easily retrievable.
Encrypt digital files. HIPAA requires that Protected Health Information (PHI) documents be encrypted for security purposes. HIPAA protects any electronic PHI (ePHI) file, including scanned images, faxes, x-rays, and MRIs. Each of these types of records should be encrypted before being transmitted outside of your organization and also while being stored in your internal systems or on external storage media.
Consider what should be scanned and what should be stored. If you're not ready to scan everything but need to free up the valuable square footage your patient charts occupy, where can you put them while keeping them safe and secure until they can be scanned?
Knowing all the challenges involved, ask yourself these questions:
Do I have staff that are trained to scan and index each file without error?
Will the scanning be done at the right quality and file size, and in the right format to make sure it's readable but not too large to store?
Who will error-check the files to ensure documents are readable and none have been missed?
Can you afford to designate staff to spend endless hours working on a task outside of their primary responsibility?
Can you afford the right equipment, software, updates, and repair service to maintain a HIPAA-compliant scanning system?
You have your health care facility, your staff, and your patients to focus on, so you likely don't have the resources needed to scan your patient records efficiently and securely. Just as you and your staff are experts at what you do, professional file scanning experts have the expertise to get the job done right and help you stay HIPAA compliant.
Pacific Records is HIPAA compliant, maintaining tight security for your patient files. Our staff are knowledgeable and ready to help. We can handle all your document scanning needs and store the files you don't need right away in our secure records center. When you need a file or document, use our Scan On Demand service. For more information, give us a call at 800-685-9034 or complete the form on this page so that we can work with you through the process.