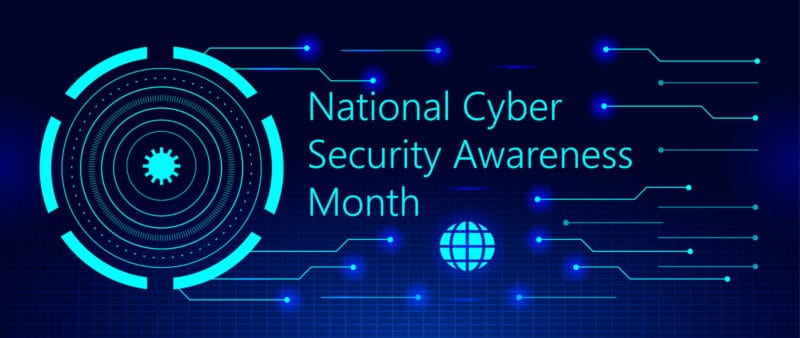 October brings vibrant fall colors, cooler nights, and shorter days. It also marks the start of National Cybersecurity Awareness Month. The annual initiative, sponsored by the Department of Homeland Security, aims to raise cybersecurity awareness among consumers and businesses. In the spirit of National Cybersecurity Awareness Month, here are several ways to keep your data safe.
Protect Connected Devices
The Internet of Things (IoT) makes your business more vulnerable to cybersecurity threats. Hackers can take their pick of devices to compromise. Install antivirus software on all enterprise devices and activate automatic security updates for every computer, laptop, smartphone, and laptop.
Back Up Your Data
Ransomware threats are proliferating as cybercriminals use sophisticated methods to hold corporate data hostage. The FBI suggests resisting cybercriminals' ransomware demands. Instead, back up your data offline to tape or with an E-vaulting service, so if it's stolen you won't have to pay a ransom to get it back.
Use a Password Manager
The more complex your passwords, the less likely a cybercriminal can guess them. But having to remember multiple passwords isn't easy. A password manager protects all your login data. Unique, complex passwords are generated for each online account and are managed with a single, encrypted master passcode.
Activate Multi-Factor Authentication
Multi-factor authentication offers an added layer of protection for your logins, making it harder for cybercriminals to breach passwords and gain access to your accounts. For example, you can set your email security settings to send a text message code to your phone when you log in. This prevents someone from signing into your account from another device.
Remind Your Employees
Security-savvy employees are the best defense against cybersecurity breaches. Since corporate email phishing scams are widespread, remind your team to scrutinize email addresses and links. Hackers often forge email addresses, pretending to be from an organization the recipient knows. Remind your employees to scrutinize email addresses and links. If they doubt the legitimacy of an email, have them call the sender for confirmation.
Follow these steps to keep your data safe during October and into the future.
For more data security tips, please call us at 800-685-9034 or complete the form on this page.
Pacific Records Management provides records management and data protection solutions for businesses throughout Fresno, Stockton, Sacramento, Modesto, and Napa and Solano Counties.