If It Ain't Broke, Don't Fix It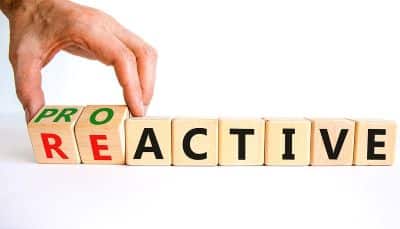 This old saying is thought to be attributed to Thomas Bertram Lance, a staff member in President Jimmy Carter's 1977 administration. In the May 1977 newsletter, Nation's Business, Lance is quoted as saying he can save Uncle Sam billions of dollars if he can get the government to adopt a simple motto: "If it ain't broke, don't fix it." He argued that government should stop "fixing" things that weren't broken instead of fixing things that were broken.
We all understand that broken things need to be fixed, but inheriting the approach of always fixing what is broken and ignoring the things that aren't is a reactive approach rather than a proactive approach that advances the mission or cause.
Benefits of a Proactive Approach
A proactive approach to data security is ideal because it can:
Be less costly than reacting to a breach
Reduce the likelihood of data breaches
Increase protection of the company's reputation
Allow the company to focus on doing business
Prove that your company has done due diligence to protect stored data in the event of a legal inquiry or audit
Minimize cybersecurity incidents, allowing the incident response team to react to and address inescapable or unexpected cyber threats without delay.
Reactive versus Proactive
Reactive
A reactive approach to data security focuses on cybersecurity measures that protect against outside incursions and even tracking down any hackers that manage to breach those security measures.
Are your cybersecurity measures strictly reactive? Check this list of some reactive approaches to data security:
Firewalls
Disk encryption
Password protection
Antivirus or anti-malware software
Multi-factor authentication
Spam filters
Vulnerability scanning
Centralized security monitoring
Ad blockers
These approaches are beneficial to data security and can prevent known viruses and malware from entering your network. As such, they should be part of the overall defense strategy rather than the sole security measure.
Proactive
A proactive approach is constantly changing and implementing new features. Preventative mechanisms include active investigations of your systems to find vulnerabilities. As the weak areas are identified, they are removed or corrected before being exposed and exploited.
Proactive approaches include:
Scanning for threats such as ransomware before they become active
Proactive network and endpoint monitoring
Ethical hacking
Intrusion detection and response systems
Educating employees about cybersecurity, phishing, and CEO fraud
When combined with reactive data security, a proactive security strategy supports the effectiveness of reactive measures. Partnering with a reputable records management company can help increase your proactive approach to data security. A professional records management service can offer additional protections like:
An off-site e-vaulting backup system that protects your data in an electronic vault.
Tape and media storage and rotation for immediate backup in the event of a disaster.
Long-term archival media storage in an atmospherically controlled environment and that can protect from theft and disaster.
Pacific Records Management can help protect your business data and strengthen your overall data security. We provide off-site data storage in our secure media vault with fire, disaster, and 24/7 monitored security. To find out more about how we can help, give us a call at 800-685-9034 or complete the form on this page.