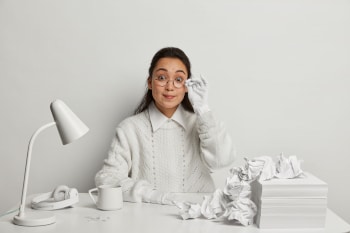 Did you know that once you throw a paper airplane, it is no longer stationery? Sorry, my paper-related jokes are all "tear-able" (I'll wait while you groan and roll your eyes).
If you think my jokes are bad, you should know the real cost of an office being heavily dependent on paper is even worse. While some people feel that working on paper makes them more productive, an overdependence on paper comes at great expense.
The Buck Stops Here
The latest statistics indicate that the average office worker uses 10,000 sheets of copy paper each year. But purchasing the paper itself is the least of the costs involved in being paper dependent. It is estimated that a company could incur an additional six times the cost of the paper in the handling and distribution of it. Renting or owning a copier and printer is expensive, and depending on the cost per page and whether you use color or black ink, your cost could range from thousands to tens of thousands of dollars each year. This expense will continue to grow as your company grows and paper consumption and rental expenses increase annually.
No Room
It is estimated that 50-70% of office space is dedicated to filing and storage of documents. Often those documents are duplicates and many are never accessed a second time. The cost of office space and filing cabinets can be a large part of your overhead expenses. The average annual cost of office rental space in Sacramento, CA is $24.69 per square foot. The storage cost of a 2000-square-foot office could cost from $25,000-35,000 per year. Space is at a premium.
Safe and Secure
Every sheet of paper printed with Personally Identifiable Information (PII) increases the risk of that information being stolen or abused. A security breach means major costs in the form of downtime, legal suits, regulatory fines, loss of client confidence, and damage to your brand. It's all too common for businesses to go bankrupt as a result of a breach.
Digital data breaches are the ones that get the most media coverage, but the risk with paper records is also significant. Document security and cybersecurity require equal attention. Fires and floods have also caused the demise of many businesses. More than 70% of businesses would fail within three weeks if they suffered a catastrophic loss of paper-based records due to a fire or flood.
When companies store all their information in one location, they are risking the possibility of a total loss due to natural disaster. As we've seen far too often, no place in California is immune to natural disasters. It is difficult enough to have to deal with physical losses that insurance can replace, but insurance can't replace lost information.
The Final Destination
45% of paper printed in offices ends up in the trash bin. According to the U.S. Environmental Protection Agency (EPA), office copier paper, computer printouts, and notepads comprise the largest amount of paper product consumption and landfill waste. The US has less than 5% of the world's population, yet it consumes more than 30% of the world's paper. According to the Environmental Paper Network, almost 27 million tons of paper ends up in US landfills. The shift from paper copies to digital data doesn't have to eliminate paper, but it can reduce the cost on the environment.
Another Way to Look at It
It's next to impossible to become paperless, and just reducing paper dependency has its own challenges. Here are some solutions we recommend to decrease the cost and risk of having an excess of paper in your office:
Outsource your storage. This suggestion is multipurpose. It frees up space to be used more productively or allows you to operate in more affordable space. It also gets your documents offsite and into a fully-secure building. Files can be retrieved quickly and easily, whether physical copies or digital. Need your files even faster? Scan On Demand can deliver.
Go digital. Start entering information into databases and print only when necessary. Consider offsite backups so there's a secondary file in a separate and safe location. Regularly back up your onsite files.
Work with a NAID AAA Certified shredding company that will destroy your documents when their lifecycle has come to an end. A full-service records management company can ensure a secure chain of custody for your documents, that retention periods are followed, and provide you with a Certificate of Destruction for your records in case of an audit.
If these suggestions seem overwhelming, connect with a reputable records management company. They will help you transition to being less paper dependent.
Pacific Records Management is PRISM Privacy+ Certified and offers secure and complaint offsite records management that will reduce your costs with space, filing, and risks of security breaches or natural disasters. We are also NAID AAA Certified for shredding and destruction. Consult us for expert advice on reducing your paper dependence by giving us a call at 800-685-9034 or completing the form on this page.