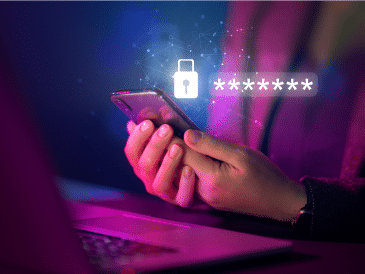 With the rise of smartphones and other advanced technology in the last 20 years, the cybersecurity world has grown significantly. October is Cybersecurity Awareness Month and is a great time to review and upgrade your knowledge of cyber threats.
Here are our recommendations for keeping your digital world secure and protected from online dangers.
1. Backup Data
If your data is stolen by hackers, it will cause a great deal of trouble for you and your business. Cyber criminals will use ransomware to take your sensitive files hostage and then demand you pay a ransom for the release of your information. Even if you were willing to pay the ransom, would you want to risk paying a thief and expecting them to follow through on their promise?
The decision to back up your files will protect you and save you the from the trouble of dealing with this type of attack. Be sure that your data is backed up offline to a tape rotation service or to an e-vaulting service.
2. Use a Firewall
Provide additional security by using a firewall to protect your network from botnets and distributed denial of service (DDoS) attacks.
3. Stay Up to Date
Security measures you have in place become less effective as time passes. Criminals stay up to date on advances in security, so you need to stay ahead of them by keeping current with security software, operating systems and applications.
4. Protect All Points of Entry
If your business operates remotely or your employees work from home, make sure their systems are well protected. The use of a virtual private network (VPN) will add protection against cyberattacks.
5. Avoid Social Media Errors
Social media is a great marketing tool but a dangerous place to share information. Here are some recommendations to improve your level of security:
Update your security settings so your social media profile is only shred with trusted people.
Don't mix personal and business information. Leave your business social media to the marketing experts and keep business information off your personal sites.
Think carefully about posting financial, medical, or any personal information, about anyone, on social media.
6. Follow Good Password Practices
Weak or frequently-used passwords provide cybercriminals easier access to your data. Use these tips to create strong passwords:
Good passwords create good protection. Use a combination of numbers, special characters, and upper- and lower-case letters. Good passwords are challenging to remember for the user as well, so use a password manager to keep track of them.
Use two-factor authentication whenever an application offers it.
Change your passwords on a regular basis.
The goal is to make it so difficult that cyberthieves give up on trying to attack your data.
7. Educate Your Staff
Regular training is crucial to keep your staff up to date on how to protect themselves and utilize the tools you have provided for them. Education is one of those tools. It only takes one staff member to be the failing link in your security. Use Cybersecurity Awareness Month to initiate regular training on this subject, and add it to your new hire onboarding process.
8. Partner with Professionals
Pacific Records Management provides data protection services to help your business stay ahead of data thieves. Our records management and shredding services can also help support and protect your sensitive information. Celebrate Cybersecurity Awareness Month by giving us a call at 800-685-9034 or by completing the form on this page.