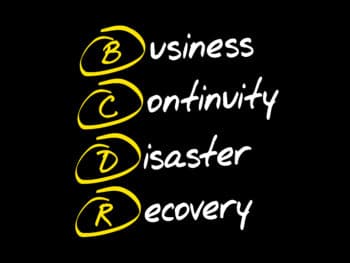 Few businesses can withstand Mother Nature's destructive forces. When it comes to natural disasters, earthquakes and wildfires pose the greatest threats to California businesses. But the truth is, even a flood or power outage can paralyze your company. That's why it's important to have a strategy that helps you resume operations as quickly as possible. A disaster recovery plan allows your organization to recover from unexpected catastrophes and restore important data. In this blog, we offer tips for implementing a disaster recovery plan.
Ensuring Access to Business Records
Every business faces a unique set of disaster threats. For example, if your business is in a flood zone, you may lose critical paper documents and digital media to a flood. No matter the threat, be sure to make duplicate copies of important business records and store them off site. Examples of these records include the following documents:
Contracts
Tax files
Personnel records
Vital corporate documents
Partner with a records services provider who offers a secure and reliable off-site records storage solution. Your documents are stored in a secure records center environment that minimizes theft, fire, and water damage. Each stored carton and file stored is individually tracked with an advanced inventory management system. A secure web portal allows you to view a complete listing of your off-site inventory as well as the ability to manage and retrieve individual records and files at a moment's notice.
Protecting Digital Data
Regular backup minimizes unexpected data loss. But backup alone doesn't provide an effective disaster recovery plan. Like your hard copy records, your backup media should be stored off site. A media rotation and storage service ensures your backup tapes are protected in a specialized media vault with specialized environmental and security controls.
An E-Vaulting service can also supplement your disaster recovery plan. Your data is digitally encrypted and transferred online to an electronic vault. During a disaster, your data is quickly deployed to your business location or an alternate hot site of your choice.
Reviewing and Testing
Disaster recovery planning isn't a one-time effort. Your plan needs to be periodically reviewed and tested to make sure it's reliable. Schedule disaster recovery testing at least every six months. Make sure your backup systems are properly functioning and recovery time objectives (RTO) are met. The more time you take reviewing and testing your disaster recovery plan, the greater the chances your company will stay in business after a catastrophic event.
For more disaster recovery planning tips, please call us at 800-685-9034 or complete the form on this page.
Pacific Records Management provides records management and data protection solutions for businesses throughout Fresno, Stockton, Sacramento, Modesto, and Napa and Solano Counties.