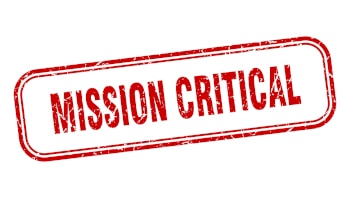 The National Institute of Standards and Technology (NIST) defines the term "mission critical" as "any…information system that is defined as a national security system (FISMA) or processes any information the loss, misuse, disclosure, or unauthorized access to or modification of, would have a debilitating impact on the mission of an agency."
How do you determine what data is mission-critical to your business? Consider what your business can't operate without. Identify the types of information you have, and which people, groups, and business processes are connected to it.
Identifying Mission-Critical Information
Ask stakeholders what data, if lost, would render the company inoperable. It may be sales, accounting, logistics, customer service or legal compliance data. The loss of this data may cause lost sales, lost customers, fines, legal penalties, or damage to the company reputation.
Prioritize information based on the impact of a disaster on revenue, productivity, recovery time, data retention, and security.

Is it vital? Would you recognize the effect of its loss after a few hours?
Is it sensitive? Would you recognize the effect of its loss after a day or a few days?
Is it non-critical? You might not recognize the effect of its loss until a few weeks have passed, and the impact would be minimal.
Protecting Mission-Critical Information
Determine data backup and storage methods. Depending on your data's priority, frequency of use, and security level, you might choose to back it up and store it on hard drive, tape, and/or in the cloud.
Make data classification an ongoing part of your information protection plan so you can determine how to handle it.
Choose a data protection provider with a full suite of data protection services, including tape/media rotation and storage, archival media storage, e-vaulting in a purpose-built media vault.
Pacific Records Management serves Fresno, Stockton, Sacramento, Modesto, and Napa and Solano Counties. We are PRISM Privacy+ Certified and can help you protect your organization's mission-critical information. Give us a call at 800-685-9034 or complete the form on this page.