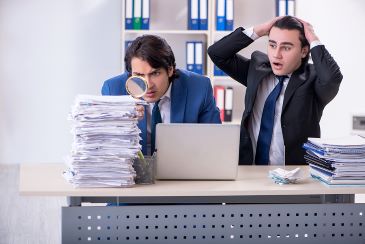 I grew up with three older brothers. The disadvantage was that I was the last to benefit from well-worn hand-me-downs. The advantage was that those well-worn items would only make it to me if they had passed the test of surviving three boys. It was the same with their experiences growing up. They would pass on to me tips on both the good and the bad. This saved me the headache of gaining experience the hard way.
If you happen to be in the process of finding the right records management provider, let me be your "big brother" for a moment and offer you some suggestions on what to look for in the hope that it will expedite your search and help you make the decision that works best for you.
1. Compliance
Find a professional records management provider that follows and stays current with privacy laws like
Verification of compliance with federal and state laws is important to ensure you are protected against any legal issues and potential government audits.
2. Records Retention
It's vital that you track and manage your records with a well-maintained record retention schedule. Maintaining your private information throughout its life is necessary to be compliant with state and federal privacy laws. Your business is unique and may require different retention periods than other businesses. Destroying your information too early or too late can affect your compliance status. Finding a records management provider that offers insight and tracking systems that help you know what and when to keep and to destroy makes your job easier and your business much more efficient.
3. Security
Paper and digital media need protection from a wide variety of potential enemies. Fire, flooding, weather, humidity and temperature and rodents can cause unexpected damage or a total loss of your business information. Even if a disaster doesn't come calling, files and hard drives can be misplaced, lost, or stolen. Storing information off site has many benefits, but it requires a secure and protected environment that might include:
External perimeter security
Climate control
Screened and background-checked professional staff
24-hour live security with alarm monitoring system
Fire detection and suppression systems
4. Accessibility
Your need for a file stored offsite could come at any moment, and having to wait for that information shouldn't be an option. Information should be quickly retrievable through a well-organized inventory tracking system and delivered promptly. Partnering with a records management provider that also offers Scan On Demand allows for immediate digital delivery.
Local Records Management
Utilizing a local records management provider will strengthen your records management as well as be a positive investment into your own community.
Pacific Records Management serves businesses in California's Central Valley, including Sacramento, Stockton, Modesto and Fresno, with a full range of secure, compliant, and accessible records and information management services. For more information or to speak with one of our experts, call us at 800-685-9034 or complete the form on this page. We look forward to being your records management partner!