Records Management, Secure Shredding and Information Management Support Services. Call Us At 800-685-9034.
Newsletter/Archives
Filled with interesting information, value tidbits, contests and a whole lot more, you will be on the lookout for it every month. If you would like to subscribe, please fill in your full name and address to the right and you will immediately begin receiving your monthly newsletter. To see the archives, download them from below.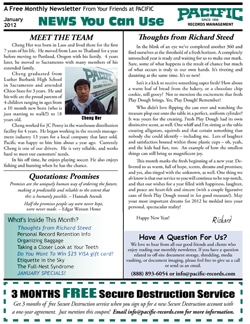 Newsletter Archives
---
Click the link below to download the newsletter in PDF format.